PENNY SOUTH PROJECT
130km SE Mount Magnet, WA
OVERVIEW
The Penny South Project (tenement E57/1045) lies directly to the south of the Penny West Gold Project owned by Spectrum Metals (ASX:SPX) and contains over 2.5km strike extension of the Penny West Shear, that hosts the historic high-grade Penny West Gold Mine. Historic drilling within tenement E57/1045 has encountered various significantly anomalous intersections of gold mineralisation including 2m at 33.98g/t Au, 6m at 1.27g/t Au and 5m at 1.11g/t Au. Like the Penny West area, tenement E57/1045 contains limited outcrop and is overlain sand and sedimentary cover. The average depth of historic drilling within the Penny South Project is less than 40m down hole. Spectrum has reported outstanding recent exploration success at Penny North and at the southern end of the Penny West pit within deeper drill holes beneath cover. Aldoro intends to utilise a similar exploration strategy to test surface anomalies at depth.
Recent Exploration
Aldoro recently completed a high-resolution ground magnetic survey at 50m line spacing, covering just over 2km strike extension of the Penny West Shear. Southern Geoscience Consultants were engaged to complete a litho-structural interpretation of the survey area with the aid of a drill hole database, providing lithological information for the project area. This interpretation work revealed 7 target areas within the Penny South tenement. These targets have generally either been untested or poorly tested by historic drilling. Based on an exploration model for Penny South the target corridor is shown to correspond to a prospective assemblage of low magnetic greenstone and granodiorite units observed to host gold mineralisation at the neighbouring Penny West project.
A maiden 5,436m aircore (AC) drilling program was completed in January 2020 to test the target corridor. The program successfully intersected the target geological assemblage across nearly all drill lines with remarkable similarities to the geology of the Penny West/North analogy seen in cross-section. Sulphidic quartz veining was observed at the contact between granodiorite and mafic units. A noticeable increase in the depth of weathering was seen at the southern end of the trend.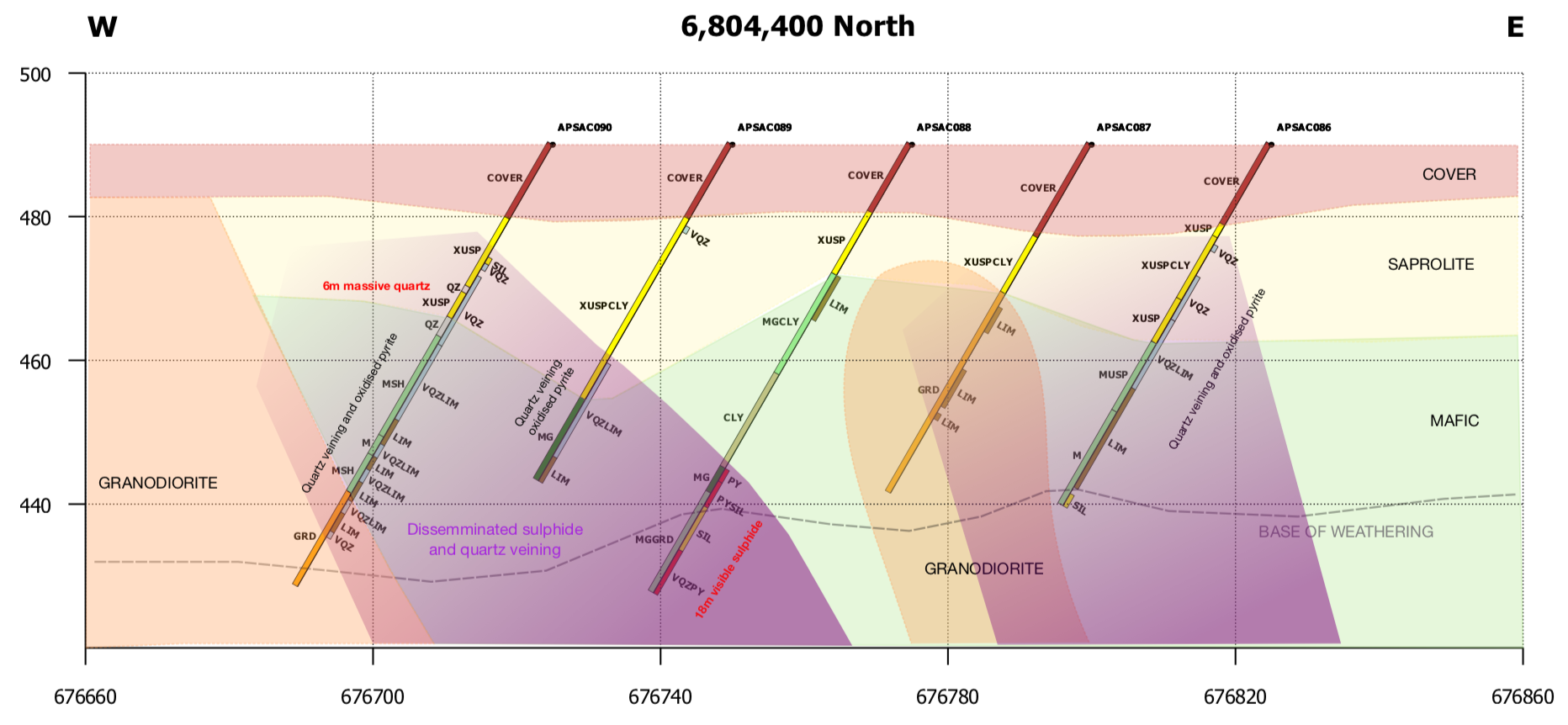 Future Plans
A deeper follow up reverse circulation (RC) drilling program is currently being planned to test two target areas highlighted by the initial AC program that show coincident results of sulphidic quartz veining at the granodiorite-mafic contact, increased depth of weathering, historic gold results and strong correlation with Pb, Zn and other pathfinder elements.